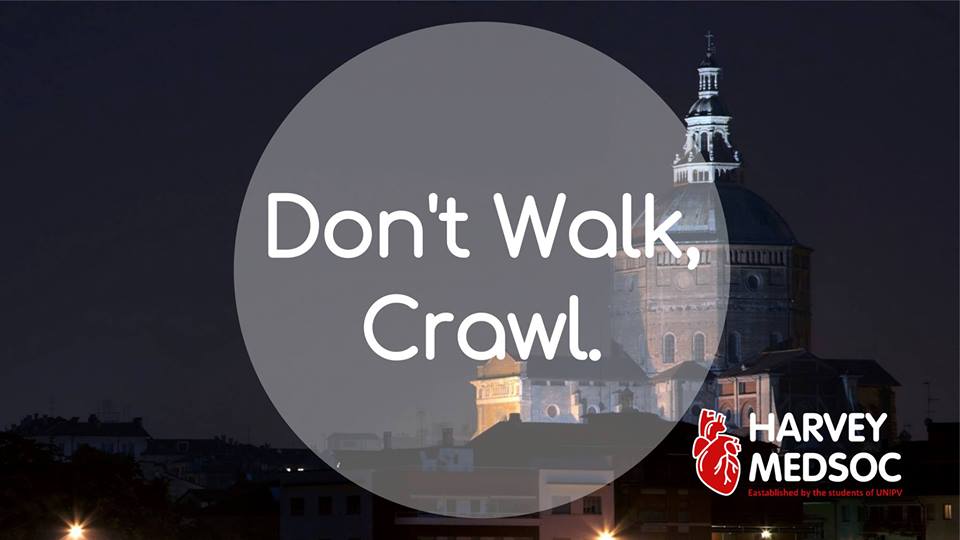 Freshers' Pub Crawl
November 8, 2018 @ 5:00 pm
-
November 9, 2018 @ 1:00 am
New year – new route!
Everyone is welcome to join for another spectacular pub crawl as we celebrate this magical journey that we are on!
Surprises are set up along the route for whoever makes it alive!
First years – MedSoc members will be there to guide you if you get lost (although, shouldn't be too hard to find, honestly – just follow the drunks)!
This is the first event planned by the 2018/19 committee and this year will be bigger and better than ever!
CONFIRMED ROUTE:
19.00-20.00 Unibar 5€ for aperitivo
20.00-21.00 Bar Vittoria in Piazza Vittoria 3€ for medium beer 2€ for small beer, 4€ for spritz, 3.5€ for other drinks and 0.80€ for shots
21.00-22.00 Zamzam 5€ for a drink and two shots, also all the food for 3€
22.00-23.00 Shot Me Down 2.8€ for the shots
23.00-24.00 New Street 4€ for a drink and a shot
After that we will go to Radio Aut for a private party for us
We will have an exciting suprise for all of you that will be revealed during the aperitivo!