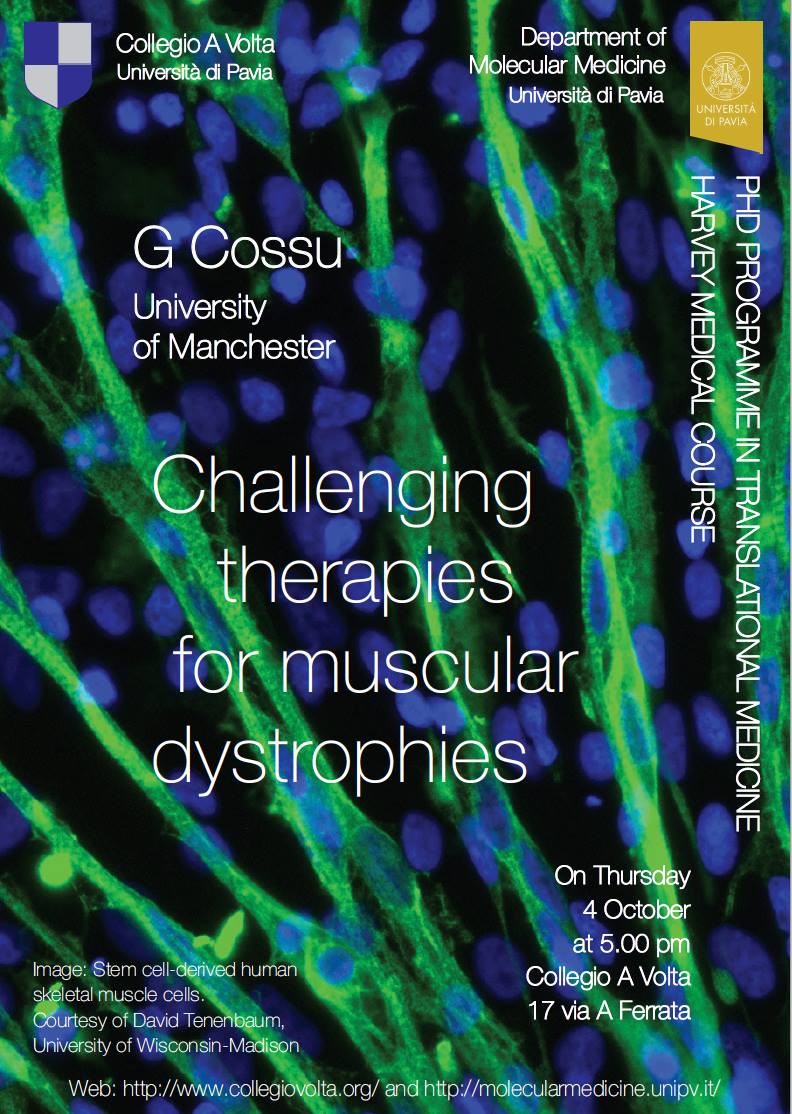 Duchenne Muscular Dystrophy is a terrible genetic condition that leads to muscle degeneration and early death, usually before the age of 30.
Enormous efforts have been made by researchers in order to understand how to tackle this enormous burden and we are proud to announce that we will soon have here in Pavia one of the leading scientist in this field: Giulio Cossu from the University of Manchester.

On the 4th of October, thanks to Prof. Roberto Bottinelli we will be hosting Prof. Cossu who will be speaking about the latest results in the field of Regenerative Medicine and, specifically, about the use of Stem Cells in the treatment of Duchenne Muscular Dystrophy. 

Be ready to give a glance to the future of medicine: a future in which, thanks to the work done by giants of science like Prof. Cossu, terrible conditions like DMD can be tackled and new hope can be given to patients.
Who is Giulio Cossu?
Giulio Cossu is recognized for his pioneering work on skeletal myogenesis and for the first cell therapy trial with stem cells for muscular dystrophy.
Giulio Cossu received his MD degree from the University of Rome in 1997. He trained as a Fogarty post-doctoral at the Wistar Institute, University of Pennsylvania (1980-83), and then became Associate Professor at the Dept. of Histology and Medical Embryology of the University of Rome "La Sapienza". In 1991 GC was promoted full Professor and in 1993-4 was a visiting professor at the Pasteur Institute in Paris. In 2000 he was appointed Director of the "Stem Cell Research Institute" of the Hospital San Raffaele in Milan. In 2003 he was appointed as Scientific Coordinator of the newly created San Raffaele Biomedical Science Park of Rome, while maintaining is position in Milan. Since 2005 he is Professor of Histology and Embryology at the University of Milan. In 2008, he was appointed Director of the newly created San Raffaele Division of Regenerative Medicine. In 2012 GC became Professor of Human Stem cell Biology at University College London, and in September 2013 Constance Thornley Professor of Regenerative Medicine at the University of Manchester.
Are you ready to meet a real giant of science?
Be proud of what Italian scientists can do.